Facial masks are everywhere on social media from Facebook to Instagram and everything else in between. Social media has been ignited, and the beauty world in general, with all the great benefits that these trending masks seem to provide.

Masks claim to offer solutions to all your facial skin care needs. From gentle to intense, from moisturizing to exfoliating, from all-natural to mostly-chemicals (yuck), these masks boost skin's hydration, dissolve dead skin cells and plump in a matter of minutes.

There is always a mask to help in cases of dry, tired, stressed, sun-weathered, dull, acne-prone, aging, parched, congested skin or more. Face masks come in a variety of applications – cream, sheet, mud, gelatin, bubble, and foil No matter which application you choose, there is no doubt that face masks have become an essential part of a good skin care routine outside of a spa.

One important point to remember when using an exfoliating mask, is that they are can irritate sensitive skin, so proceed with caution. As with any new skin care product, if you develop redness, burning, or itching when you use it, immediately remove the product thoroughly and rinse your face.

We chose 7 masks that have social media going crazy!. So, get ready to pick the one that best suits your skin's needs.
Sheet Masks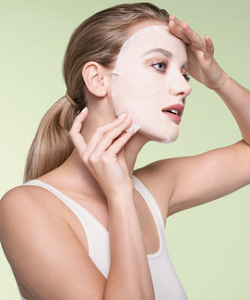 Sheet masks (or Korean face masks as they are also known as) could be credited with starting our modern social media masking craze. Think of all the funny 'Hannibal Lecter' selfies posted on Instagram and Facebook to show how they have grown in popularity. Sheet masks are made from various materials such as cotton, microfiber, hydrogel, and bio-cellulose. These super next-gen, quick throw-away (single-use) masks are an easy (not to mention fun) way to give your skin some extra pampering and a major dose of beneficial active ingredients. Most sheet masks are designed to rest on the curves of your entire face (full face) to offer a mini facial experience that will leave your skin glowing with health and beauty.. They infuse the ingredients into the skin for visible results in a short amount of time (usually around 20 minutes).

Some sheet masks clear pores, others brighten, and some gently exfoliate. They all make your skin gleam and shine. Some use organic and green ingredients like turmeric and green tree extract, while others use anti-aging ingredients like retinol that will plump up fine lines.

A great benefit of the sheet masks is that they don't get dry and hard like many of the mud or cream based masks on the market. These spreadable masks do a great job of drawing out excess oil, but when they dry, they crack and break and allow moisture to evaporate. The disposable sheet masks don't have that problem. However, they can be messy to apply because they are usually drenched with oils and/or other liquid ingredients.

Despite their popularity, sheet masks produce only a limited and temporary number of surface benefits and results. The sheets form a barrier between your skin and the air around it to keep in the moisture but they only work for as long as you wear it. It doesn't matter if you wear sheet masks for longer than the required twenty minutes, they are not designed to be worn for longer periods because of the thin material that the masks are made from which will eventually dry out.

In short, they don't really penetrate your skin and provide deep-down healing. Sheet masks only work on the upper layer of the skin (epidermis) and not the deeper layers (the dermis and hypodermis). In other words, sheet masks offer superficial, short-lived solutions and not long-lasting effects. The deeper layers that contain collagen and elastin need to be considered as these are important skin layers that need nourishment to support healthy, luminous skin.
Charcoal Masks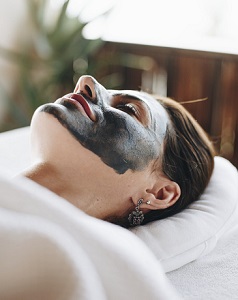 Activated charcoal is the main ingredient in this tingling mask which has been specially treated to increase its absorbency. Activated charcoal has been around for a long time in emergency rooms as a treatment for accidental poisonings and overdoses but has been applied to skin care in the last few years. The charcoal activates to first draw out bacteria, toxins, chemicals, dirt, oil, micro-particles, and other impurities to the surface of the skin. It then absorbs any foreign substances and 'carries them away' when you rinse the charcoal off your face. It's ideal for those skin types that are prone to blackheads and oily t-zones. Depending on the type, you can either spread the mud infused with charcoal, or the sheets infused with it. If it is in mud form, apply the mask to your face, wait for it to harden, then peel it off. If it's in sheet form, just remove the sheet after application and discard. The drawback to the former, charcoal mud face masks, is that not only can they be messy and painful to remove, but you may also be stripping off the top layer of skin and all the goodness that exists to protect the deeper layers of skin.
Gold Masks
24-karat-gold face masks are Instagram's latest obsession. The gold face mask fuses the latest sheet mask technology with gold thin leaves. Gold has many benefits for the skin such as stimulating the production of collagen levels and helping to reduce long-term collagen loss. Gold can also re-hydrate and soothe your face by boosting the microcirculation of the skin, leaving it glowing and radiant. Additionally, since gold is both antibacterial and anti-inflammatory, it can help treat skin infections and those with riddled with acne complexions, promote cell renewal, de-puff the delicate eye area and reduce wrinkles. Gold leaf may be applied to cotton sheet masks or on top of a liquid mask to infuse the active ingredients into the skin.
Magnetic Clay Masks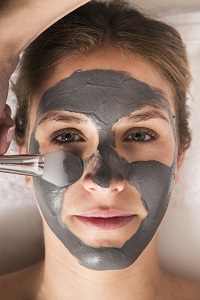 This type of mask is a growing popular trend in skin care regimes. Composed mostly of mud and a variety of other traditional face mask ingredients (and sometimes even with exotic/organic compounds like volcanic ash), along with iron particles to create a microcurrent in the skin when used with a magnet. To activate circulation, you simply hover the magnet over the skin (once the mask has been applied) in circular movements. To remove, lift higher and dispose of. Magnets have long been used in healthcare to help improve wound healing and in orthopedic injuries. It makes sense to apply this magnetic technology to enhance the skin's ability to heal itself, restore the functioning of aging skin cells, boost collagen, as well as, moisturize, reduce fine lines and wrinkles, and remove impurities. The masks have also been shown to improve skin circulation by literally pulling the skin when the mask is removed, which can dilate blood vessels. The drawback to these masks is the hefty price tag. Prices range from $55 to $250. These type of masks are especially good for tackling congested or dull skin but not recommended for people who have acne since the mud masks may clog their pores. Those with rosacea should also avoid them because increased blood flow to their skin may augment redness.
Aluminum Foil Masks
There are two ways aluminum (silver) foil masks can be applied: DIY and via sheet masks. If you want to be handy and thrifty and do the DIY thing, simply tear off a sheet of aluminum foil a bit larger than your face. Next, cut out that familiar sheet mask sized full face shape and cut out openings for your eyes, nose, and mouth. Apply the foil on top of your regular sheet mask and that's it. Or you can purchase ready-made sheet masks. The foil is on the outside of the sheet mask while the inner side that touches your face is made of cotton. The purpose of these foil sheet masks is to trap moisture in by locking it in with a physical barrier while it's absorbed by the skin. The foil will prevent the liquid from escaping and maximize the active ingredients from evaporating. Unlike Hydrogel masks that cool and refresh the face, foil sheet masks impart a warming sensation. The foil insulates your face, activating the skin's natural warmth. The warmth allows the main ingredients to be absorbed more quickly and effectively into the skin, increasing hydration and enhancing nourishment to boost healthy skin.

Bubble/Oxygenation Masks
This bubbly fun mask is growing in popularity as the new, go-to solution for all your skin issues. The bubble masks are based on oxygenation and the positive healing properties it brings. In labs and hospitals, oxygen has been used to help wounds heal by increasing circulation. When applied to the skin, oxygen can help boost collagen production and help cells recover for plumper and dewy skin. These masks can help draw out dirt and eliminate pollution particles from your skin, leaving your face softer and glowing. Bubbling, oxygenating masks are activated when the packet is opened releasing nutrients, similar to opening a fizzy soda can.

Gelatin DIY Masks
Do-it-yourself gelatin face masks are all the rage right now, and we totally get why. Gelatin is a common household item that is readily available. When mixed with other easy-to-find ingredients, the gelatin face mask can mimic the effects of Korean face masks or charcoal face masks to rejuvenate your face and infuse your skin with moisture and nutrients that stimulate and add new collagen to your skin and promote existing collagen production. Gelatin face masks can exfoliate the skin, remove dead cells, oil and dirt and also heal damaged skin, improve elasticity, and add volume. Gelatin is collagen extracted from the skin, bones, and connective tissue of animals such as fish, pigs, cows, and chickens which provides health benefits when ingested (in the form of jello or dietary supplements) or applied to the skin. That is why it is included in many anti-aging creams, lotions, and balms. Gelatin in a face mask binds together when mixed with a liquid and allowed to dry which then can gently be peeled-off.

---
---